FAQ's
Do you offer Phone Support?
We don't have phone support, but please don't take this as a lack of interest! We'd love to help you. Many of the answers to your question can be found in our FAQs section. If you still need help after reviewing this content, please send us an email. We reply promptly 24-7.
I need to post a job but I don't have a PayPal Account?
You don't need a PayPal Account to post a job at NP Board. All you have to do is post your job and confirm it once you confirm it  you will be forwarded to a PayPal payment screen. Here you can select Don't have a PayPal account, Pay with your debit or credit card as a PayPal guest.
Do you offer a discount for educational institutions and non-profits?
Absolutely! We're very friendly to educational institutions and non-profits. Please Contact Us, tell us a little about your organization, and we'll craft a discount just for you (usually 20% off the listed prices).
Do you offer invoicing?
If you'd prefer to be invoiced and pay by check rather than by credit card, please contact us, and we'll be happy to set you up for invoicing. (It's painless!)
Where will my listing been seen?
In addition to listings being featured on NP Board, your listing will also be on our partner websites that are targeted to the job seekers you're hoping fill your position. Together, these sites capture millions of page views every month and hundreds of thousands of unique visitors.
Can I end my listing early if I fill the advertised job?
Yes, you can end your listing early. Login to your account and click on the "My Jobs" tab in the upper right hand corner of the page. You will see a list of your jobs. Go to the job that you seek to end and click "End."
How do prospective candidates connect with me?
Directly via the email address you provide during the job posting process. You will  be the only point of contact with prospective applicant. We strongly encourage  job listers to utilize the built in apply button on all ads. This will help protect your privacy, and email address.
How do I edit my listing?
You should have received a confirmation email after posting your listing. This email includes a link for editing your listing. If you've lost this email, or if spam filters ate it up (not uncommon), send us a note and we'll resend your link. Or you can simply login and this will take you to your Dashboard. Here you can select the live tab and click on the edit job link.
I'm a smaller group and don't have a company logo what can I do?
Just let us know we would be happy to make you a simple company graphic for your ad. Just let us know we are here to help.
Can I edit my job listing?
Yes.  Once you log in to your account you are directed to your dashboard. Here you will see all your live jobs. Under the Actions column you will see edit, Click on this and you can edit your job.
Also the confirmation email you received when you posted the job contains an edit link. Just follow the link to edit your listing.
How do I use a Purchased Job Pack for a expired job?
First log in to your account with the username and password you created.
Once you log in you will be automatically taken to the dashboard home screen.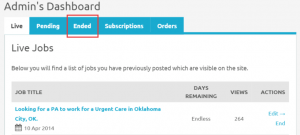 Click on the tab Ended.

Click on Relist.
Once your job details are finished you click on the Next button until you get to the Select Plan screen.
Here you select your Choose This Pack with the option of making your ad Featured.
This will automatically relist your ad to the site.